I met Molly Meng two years ago. It was on one of those classic San Francisco days, I had just come back from three months in New York and was seriously considering packing up and heading back East. But how could I? Sitting in Dolores Park with a great friend, appreciating the view, soaking in the sun, along comes Molly, tall, friendly and packed with life. Molly had just moved to SF with her boyfriend (now husband), and we went up to their amazing apartment overlooking Dolores. That's when I was first introduced to Molly's wonderful creations, she had bins of intricately collaged cards, created with old letters and photos and found objects. Each piece was its own little world and I was blown away. Molly has her first solo show coming up on November 4th and has started selling her cards online at
shoporangebutton.com
(you can also buy them at Candy Store in the Mission). I never leave Molly's presence feeling uninspired, whether we're just sitting around talking or making things in her house. If you're in San Francisco, go to her show, not only will you see some beautiful art, I promise you'll leave inspired.

Hi Molly.
Hi T.

Hey, do you know what a Cardoon is?
A cardoon? Is that someone talking cartoons with a cold? Or is that the instrument played by my favorite author Noam Chomsky? Yeah, I know what it is; I just don't feel like telling anyone!
Fair enough. I just found out it was a vegetable a couple of days ago, a cross between an artichoke and celery, although it doesn't really look like the baby of those two. What's your favorite vegetable to cook with?
I really tend to keep veggies in their own majestic form--my latest favorite is squash. But I truly, truly love peppers: red, yellow, green, orange--love them!!! Cooked! Raw! They're candy and veggie all in one!
While we're on the topic of favorites, what's your very favorite thing to do in SF, like if you had no obligations to anything and an unlimited amount of money, what's the first thing you would do in our lovely city?
Well, besides no obligations and unlimited money, it would also require a yet unheard of gastronomical add-on: a bigger stomach cavity. Because I would probably chose to eat, eat, and eat some more: Firefly, Pomelo, Zinc. The other thing I would do is take classes: there is every kind of DIY class offered in this city & I'd take almost all of 'em!
Guilty blog reading pleasure?
You had to bring that up, eh? No, no, I've never, ever, ever, swear on a republican! spent hours on
perezhilton.com
!!! I swear! But I really appreciate the neurotic ravings of
nancyboy.com
(owner of the fab shop Nancyboy, here in town) and the intelligence, and sometimes great dense-ness, of
davidbyrne.com
thanks to you & other friends, actually, I've found out a ton of other artist/crafter websites that I'd like to actually spend more time on. Including yours!

What's been inspiring you these days?
Musicians: big, dramatic musicians that put on incredible real, true, live SHOWS: David Bryne, Andrew Bird, Sufjan Stevens, The Arcade Fire and music that keeps coming across my desk: Regina Spektor, Death Cab for Cutie, David Dondero. And, anytime I watch the brilliance that is "me and you and everyone we know" --I think I've watched it four times over the last month. And dreams.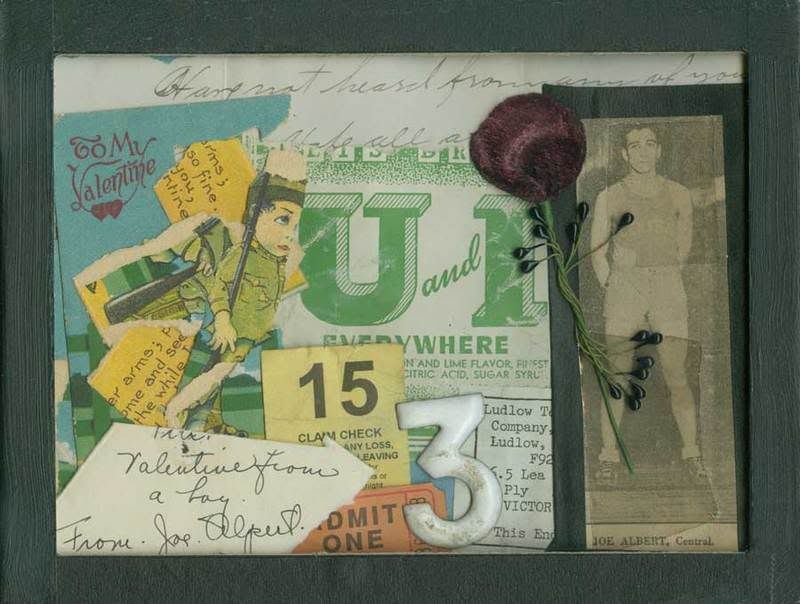 My own dreams have really been going crizazzy and therefore memorable (you know, in the waking hours) in a good way. And, strangely, politics. The hell-in-a-hand basket world this administration is creating is shocking and disgusting to me on a daily basis. I feel like so many of my pieces are a reaction to what's going on. Many pieces are beautiful relics of a bygone era, and then in others, it seems the life I'm revealing was just as nasty "then" as it is today. But the pieces are more about people, and contact, and relationships.... whereas, I feel like the world we're living in today is so distant and out of touch with itself (ourselves). I like to think "the good ole days" actually existed and I'm digging those good ole days up from their past; some stories are good and some aren't so pretty.

Favorite thing you've ever made?
dang, that's hard. I'm of the old school; I usually fall in love with all my "first drafts".
My "favorite" made things usually don't have much to do with the actual piece, but with the story of the person/history behind them. So, when the piece is finished, I've so fallen in love with this character I've created in my head and by default, fall in love with the piece. I do love & will never sell the piece "Do Onto Others" that I made years ago, it was sorta part of a series of these pieces with old rulers I found...it hangs in our living room. I've since sold the other pieces in that series. And funny enough, one of my new favorite things is something I just finished today. It'll be at the show in November. And you'd probably never guess what it is--it's fairly small and seemingly insignificant. Again, thou, I fell in love with the character behind it.
Speaking of your upcoming show, is there a central theme around it? Do you want to tell us anything about it or should we just come and see it?
Well, yes, I would be absolutely honored if everyone came to see it, too. But I'd be happy to tell you a bit about the central theme of it in the meantime (if I can articulate it!). The show is called "...unfinished proof" (which is also the phrase from an old stamp that used to be embossed on photos that weren't yet sealed by chemicals--literally, unfinished, and yet it was still a proof that was to be approved, in a short amount of time. For me, it's also proof that that person was...) it revolves around the idea that all the pieces are proof of these people's existence in the world--yet, as I mentioned before, these are actually characters, and the characters lives/work/pieces created by me; so, it's 'unfinished proof'. I create historical fiction with real ephemera, actual vintage photographs and books and millinery ...and on and on.... and there is a story behind each piece, which I would love to be able to tell to everyone. But I realize I won't get around to telling the 'history' of each piece to every person that comes to the show.
That's one of the things I love about your art, how it's based around old photos and letters you've found and the pieces you create build a life back up around these photos and artifcats. I know you often make up stories of these people as you work. Want to share any with us?
There is this one in particular that I'm really digging on--the pieces are about 18x24 and they're stories that this woman used to write out and then hang up on her walls. She did hundreds of these and all over her apartment, they were all pinned over each other, but each one told a complete story from her past. She would be sitting in her chair and something would occur to her and she would whip out this huge child's drawing pad and start writing. As she was writing, she would pull this box of photos closer to her and start digging through to find the photos to go with the story she was telling. She would write, first in pencil (she only used pencils at first, considering this a 'first draft' element of these stories--though, she never used an eraser) until she was finished, placing the photos through out the story. When she was finished, she would lean back in her chair, admiring the finished story, and would let out a little "there" under her breath. She would later go back over them with pen, to 'set' the story in ink, and then pin them up on her walls. They were just her life stories, but she could see the 'art' in them as well, and that's why she liked to hang them on her walls. She was the only one left from her family. Her parents died when she was in college and she had two brothers, both of whom had since died--so, she felt like she was keeping up the family history this way.
With all these old photos and memorabilia of people, all these lives in boxes and in your studio space, do you ever feel haunted by them?
Normally, no. In fact, for all the years I've been collecting this stuff, I can only think of one time that I felt it was "haunting" me. Geeze, I'm still trying to get rid of the box of this person's stuff. I bought it at an estate sale, a big wooden box filled with this guy's life and the stuff he had collected, and it sat around our apartment for ages. Something was definitely funky, 'cause normally I'd jump right into the box...usually, I can barely get away from the house/the flea market/ wherever, before I start pulling out photos and letters and showing them to Ryan*, creating stories for them. But, this one, I don't know...it just sat. I kept moving it around from place to place in the studio and then it sat in the living room for a long time. Finally, I went through it, and almost instantly I felt the heavy. Now, I've done a lot of digging through people's stuff, in their homes, usually right after they've left this earth, and I know some people think that's creepy: plus, the stuff I bring home can seem crazy too, like stockings and false teeth and death certificates--seemingly heavy stuff, but I think it's beautiful (I feel like I'm preserving them, making them infamous, giving them their fifteen minutes, in a whole new light). And I've been to a flea market with another collector and when I bought an entire, spectacular photo album of a German family who sent their daughters to an all girl Nazi training camp in New Jersey, well, he thought it was wrong and told me he didn't collect sensationalist, evil things like that (lucky for me, as it turned out). He thought that focus was too heavy. But, this was a totally different kind of heavy. As I sorted thru this guy's stuff, and started reading the letters, and reading the backs of photographs I just knew I could never use any of this. I didn't even get all the way through the box. I packed it up, got rid of the wood box, and the stuff sits, sealed in cardboard box waiting for a new home. I should throw it away.
*(Luckily I married an amazing guy who loves the dig, too, and is totally, totally supportive of me and the fact that I bring a ton of other people's stuff into our house)
Anything else you want to tell us about (stuff we shouldn't die without reading first, music, idols, fun facts)?
Sufjan Stevens may be my new god. Saw him play last nite and I was blown away at his vision. You don't have to love his music (though it would be a bit of drag if you didn't fall in love with it.... I mean, for you, the listener, really) anyway! -- You don't have to love his music to see that he's a master of his vision. He had 45 people on stage with him-- strings, horns, a wurlitzer, among other fabulous instruments and a full Mozart choir. Gorge-gous! And, if you've got time, read some Kurt Vonnegut before you die. What a long overdue, unexpected surprise in my literary world. Go back to using your old camera: I just re-discovered my cannon AE1 after putting it down for a digital two years ago...and man, it's like the world has become richer. And, finally, send letters via the U.S. postal service--its not a promotion of the postal service (please, I know those lines SUCK!) but of sending and receiving mail: paper, pencil, stamps-- it's a juicy experience that we've let slip out of our hands...
"...unfinished proof..."
opens November 4th at Gallery 405, 2111 Mission Street, Suite 405, 6pm-9pm.
You can also visit
8mm ideas
for more info and in the future more art from 8mm, Molly's company.